Bernard Ephraim Garrett (July 8, 1927 - October 31, 1978) is a character that appears in Halloween II.
Biography
Bernard Garrett was born on July 8, 1927 to Andrew and Kathryn Garrett in the city of Raleigh, North Carolina. In Bernard's early twenties, he was in the Korean War. Sometime after he came home, Bernard married a woman named Lynn Irvine but the couple got a divorce. He eventually got a job as security guard at Haddonfield Memorial Hospital.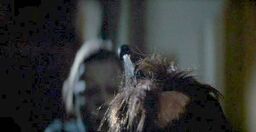 On Halloween 1978, he was asked by nurse Janet Marshall to check on the power after the phone lines went down. Michael Myers killed Mr. Garrett by striking him across the back of the head with the claw end of a hammer. After murdering him, Michael then hanged his body, and later his corpse was found by Laurie Strode.
Trivia
Mr. Garrett's social security number was 157-38-1839.[1]
In the TV cut of Halloween II, Michael only raises the hammer before the scene cuts out.
Appearances
References