Character
Name:
Deputy Charles
Gender:
Male
Location:
Haddonfield, Illinois
Death:
October 31, 2007
Portrayed By:

Richmond Arquette

First Appearance:
Halloween
Deputy Charles was a character in the remake of Halloween.
Biography
Deputy Charles worked for Haddonfield's police. He was sent, along with Officer Lowery, to the Wallace house after Laurie Strode called the police saying that her friend Annie Brackett was injured. Once they arrived, they found that the Doyal house had the front door wide open. They investigated to see what was going on and Lowery was told to check upstairs. Charles checked around downstairs until he heard Laurie, Tommy Doyal, and Lindsey Wallace screaming. Charles made his way upstairs and found Lowery killed by Michael Myers. He told the latter to freeze but Michael focused on Charles now and went after him. Charles tried to stop him by shooting at him, which did nothing to stop Michael, who stabbed Charles in the chest.[1]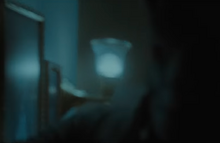 References