Deputy Pierce is a character in Halloween 4: The Return of Michael Myers and is portrayed by Michael Flynn.
Biography
Deputy Pierce was a Sheriff's Deputy in Haddonfield, Illinois. On Halloween 1988, Deputy Pierce was doing paperwork when Doctor Samuel Loomis came in asking for former Sheriff Leigh Brackett. Pierce told him that Brackett was retired and had moved to Saint Petersburg. Sheriff Ben Meeker introduced himself as the new sheriff and asked what was going on. Loomis told him that Michael Myers was back and looking for his niece Jamie Lloyd. Meeker had Pierce call the troopers to verify the truth of Loomis's story. Pierce discovered that the phone lines were down and was ordered to call for help.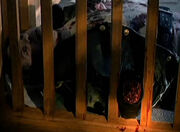 Later that night, Michael Myers arrived at the police station and massacred the officers there. Pierce was among the three casualties, ripped apart. His and the two other policemen's corpses were discovered by Meeker and Loomis.
Notes and trivia
At the time of Deputy Pierce's demise, there was a teenage girl named Susan Pierce living in Haddonfield. The two may have been related.