Donald L. Shanks is an American actor and stuntman. He portrayed Michael Myers in Halloween 5: The Revenge of Michael Myers.
Career
Shanks is the only stuntman of Native American descent to play Michael. He is of Cherokee and Choctaw descent.
Shanks has also appeared in The Life and Times of Grizzly Adams and also as the infamous serial killer Ben Willis in the film I'll Always Know What You Did Last Summer.
During the filming of Halloween 5, Shanks became good friends with co-star Danielle Harris. Harris claims that George P. Wilbur, the actor who portrayed Michael in Halloween 4, had to wear hockey pads to appear more imposing, but Shanks did not wear anything under the costume, because he was naturally big, being 6'1 inches in height. Shanks also claims that it was extremely difficult to breathe in the mask because it had no ventilation.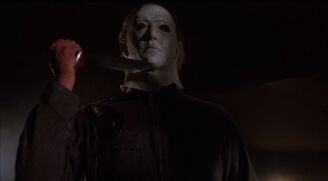 Shanks did all of his own stunts in the film, including swimming in thirty degree water and crashing a car into a tree at fifty miles an hour, and narrowly escaping the fire that ensued. Shanks, who was not wearing flame-retardant clothing, claims that he was told not to leave the totaled automobile until the director said "cut" and decided to stay inside the vehicle for about a minute because the director had not done so. It turns out, the latter was so shocked by the realism of the wreck that he had forgotten to shout "cut", and did so just in time for Shanks to leave the wreckage.
Shanks also portrayed the "Man in Black", later revealed to be Dr. Terence Wynn. At the time, nobody knew who he was supposed to be and Shanks claims that originally an idea floated around that he was Michael's twin brother, which is why they had him play the part.
Appearances