The Halloween Series Wiki is all about the series Halloween created by John Carpenter. This wiki allows anyone to create or edit any article so it can become the best source for any information related to the Halloween series (provided our set of rules is followed). We currently have 799 articles since March 1, 2010.
Characters
Films
Blogs
Matachak
•
Hey folks,
I thought I would create my own listing…
Hello, I'm new to this wiki page. I was wondering…
Hello folks, I'm asking for your opinion on the w…
See more >
Featured Article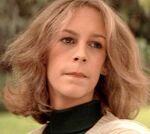 Laurie Strode
, is a character and primary protagonist in the Halloween franchise. She first appeared in the original Halloween, played by Jamie Lee Curtis.
Laurie's history is complicated by the fact that the series follows several conflicting continuities. Halloween H20: Twenty Years Later and Resurrection ignore the events of Halloween 4, 5, and 6, splitting the series into two separate timelines both originating from the original film and its sequel. The 2007 remake reboots the series continuity altogether, starting the timeline afresh. (Read More...)