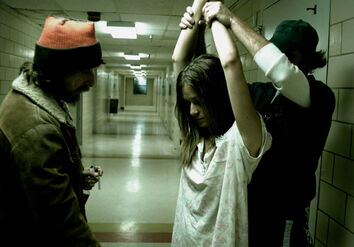 Karen Mercy is a minor character that appears as a mental patient in the Unrated Cut of the 2007 Halloween remake.
Biography
Fifteen years after Michael Myers was locked up at Smith's Grove Sanitarium, Karen arrived there for unknown medical conditions or mental disorders, but eventually, on October 30, 2007, she would be assaulted by two of the Sanitarium's employees.
Halloween
Late one day, Noel Kluggs and his cousin Kendall Jacks seized Karen to rape her. Noel thought it would be great if she was raped in Michael's room. Once they arrived with her, they started to taunt Michael by caressing her breasts, touching her vagina and rubbing the scent into Michael's face, eventually lifting her rear end in the air, exposing her vagina and raping her as she screamed and cried in pain. Michael did nothing until both Noel and Kendall put his masks on. Michael got up and choked Kendall against the wall. Noel tried to attack Michael and save Kendall, but his cousin was already dead. Michael focused on attacking Noel and bashed him against the walls until he died. Michael then left his room, paying no attention to the female patient, making her one of the few people to cross his path without getting killed.
Gallery