"Michael Myers. Yeah, right."
―Matt Sampson.
Matt Sampson is a character in Halloween H20: Twenty Years Later.
Biography
Matt Sampson was a detective who was sent to investigate Marion Chambers's house after it was broken into and she, along with Jimmy Howell and Tony Allegre were murdered. Sampson and Detective Fitzsimmons discussed the possibility that it may have been Michael Myers who murdered them. While Sampson knew of the possibility, he did not believe it could be Michael as he had been missing for twenty years, and figured he was too old to be committing the crimes.[1]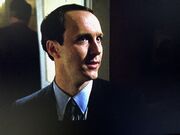 Appearances
References