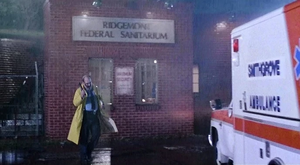 The Ridgemont Federal Sanitarium is a maximum-security mental health facility in Illinois. It is where Michael Myers was transferred to, from Smith's Grove Sanitarium, after becoming comatose.
Halloween 4: The Return of Michael Myers
Because Smith's Grove sanitarium was a minimum security facility, Michael was instead held in a federal prison. For ten years, while in a coma, Myers was held at the Ridgemont Federal Sanitarium in southern Illinois, four hours by car from Haddonfield.
On the night of Sunday, October 30, 1988, two Smith's Grove medical attendants were charged to transfer Michael back to the Warren County sanitarium. In the ten years since his 1978 escape, it is assumed that either the Smith's Grove facility had now become a maximum-security ward, or that it was decided that Michael's comatose state made him no longer a threat requiring such security. While in the back of a transfer ambulance, Michael slowly came to. The two attendants were discussing the fact that Michael Myers was now under state and federal watch. They also revealed that the only known living relative in his hometown was a young niece. Michael later learned that she was named Jamie Lloyd, whom had been adopted by a foster family after Laurie Strode was seemingly killed in a car accident along with her husband, Jamie's father. Awakening just in time to hear their comments, the deranged killer decided to murder them all and escape once again, ten years to the date of his first breakout. Michael never made it back to the sanitarium.
Staff
Appearances
Notes and trivia
A sanitarium is technically a place for tuberculosis patients, so the name is a misnomer.