Character
Name:
Bob Simms
Gender:
Male
Location:
Haddonfield, Illinois
Birth:
ca. 1990 [1]
Death:
October 31, 2007
Portrayed By:
Nick Mennell
First Appearance:
Halloween
"So on a scale of 1 to 10, should I have a 5?"
―Bob Simms to Lynda Van der Klok about how he ranks in sex
Robert "Bob" Simms (ca. 1990 - October 31, 2007) is a minor character in the remake of Halloween, played by Nick Mennell.
Biography
On Halloween night in 2007, Bob and his girlfriend Lynda Ver der Klok go to the now-vacant Myers house for a fun wild night of sex, not knowing that Michael Myers is on the balcony watching them. During sex, Bob claims to have a leg cramp, which causes him to climax quickly. Afterwards, Lynda tells Bob to go get her a beer. Bob goes outside to his van to get more beer for her, and he comes back inside dressed up as a ghost to surprise Lynda.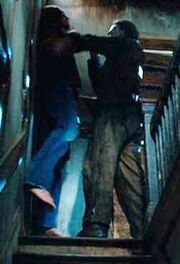 As soon as he makes it upstairs, he is ambushed by Michael, who pushes Bob up against the wall and stabs him through the chest with a Kitchen knife, pinning him to the wall.[2]

Notes and trivia
Bob is similar to Steven Haley in both looks and personality.
Appearances
References
↑ Date approximated based upon the relative age of the character. Laurie Strode (who is around the same age as Bob) is stated to be seventeen in the remake.