Sundae is an animal character in Halloween 4: The Return of Michael Myers.
Biography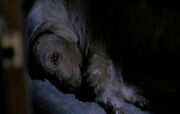 Sundae was the pet of Jamie Lloyd and Rachel Carruthers. Sundae was a kind and gentle dog that stayed by Jamie's side whenever she was upset. On Halloween 1988, the whole family left Sundae at the house while they were out. Michael Myers then broke in and killed Sundae[1], making him the third dog to die in the film series.
Appearances
Trivia
Sundae was a Golden Retriever. Historically, they were used as gun dogs and would retrieve shot waterfowl during shooting and hunting parties. They have a loyal and gentle temperament.
References