The Rabbit in Red Lounge is a nightclub in Halloween (2007).
Comics
Two days before he was to get married, Christopher Hastings' friends took him to the Red Rabbit Lounge for a bachelor party. His friends had gotten drunk and were starting to make fun of a woman named Jenny Reeves who lived in the backwards part of town. Chris stood up for her and got her a drink to prove no hard feelings. They talked for three hours before they got in the backseat of Chris' car and had sex.
Halloween
Nurse Marion Chambers had a matchbook from the Lounge which she used to light her cigarettes. Samuel Loomis notices the matchbook briefly. Later on, after Michael escapes, Loomis stumbles upon a ripped hospital gown and an abandoned truck from Phelps Garage. He then finds the matchbook from earlier and realizes that Michael has been here. Loomis leaves quickly, rushing to Haddonfield, but he fails to notice the mechanic's body in the tall grass just behind him.
Halloween remake
Located one block east of Route 1 in Haddonfield, the Rabbit in Red Lounge was an exotic strip club. Deborah Myers worked here as a dancer in the years leading up to her death. In the years afterwards, the Lounge gained a small measure of notoriety, mostly because Deborah was the mother of Michael Myers, the so-called "Butcher of Haddonfield". Michael, as an adult, once came to the place and brutally killed the owner and a stripper, just when they were about to have sex.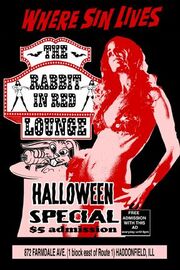 Staff Members